Stephen Bishop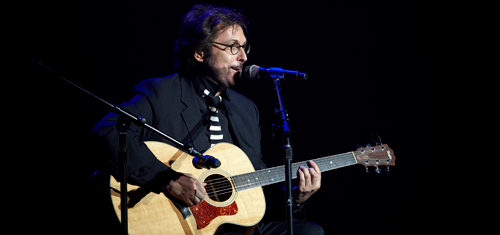 IT MIGHT BE YOU (THEME FROM "TOOTSIE")
ON AND ON
SEPARATE LIVES (LOVE THEME FROM "WHITE NIGHTS")
SAVE IT FOR A RAINY DAY
While Stephen Bishop had mastered both piano and trombone, it was an older brother's gift of an electric guitar that launched
a vocational flight whereby an unprepossessing,bespectacled 14-year-old became a highly popular songwriter of US pop. In 1967, he formed his first group, the Weeds, recording some Beatles-inspired demos in Los Angeles and winning 2nd place at the Claremont Battle of the Bands, prompting one of the judges to exclaim that "Stephen Bishop is going to be a big songwriter someday!".
Through a good friend, Art Garfunkel heard some of his new songs and recorded two of them on his Gold recording, "Breakaway." Shortly thereafter, he was signed to ABC Records who released his first album, "Careless." His two hits from that album were,"Save It For
a Rainy Day," and "On and On."
His songs have been sung by artists such as Eric Clapton, Phil Collins, Barbra Streisand, Steve Perry, Stephanie Mills, Kenny Loggins, Johnny Mathis, Phoebe Snow, David Crosby, The Four Tops and Pavarotti. His performances on film included the theme songs to National Lampoon's Animal House ("Dream Girl"), Roadie ("Your Precious Love" with Yvonne Elliman), Tootsie ("It Might Be You"), and White Nights (the Academy-Award nominated "Separate Lives", recorded by Phil Collins and Marilyn Martin).